"May God give you...for every storm a rainbow. For every tear a smile, For every care a promis, and a Blessing in each trail For every problem life sends, A faithful friend to share. For every sigh a sweet song and an answer for each prayer."
A perfect sentiment to tie into a celebratory graduation balloon bouquet or as a keepsake for a sympathy wish. It can be a message to share with a long time friend or a new aquaintance who touched your heart.
A perfect add on to a bouquet of MN Grown Fresh Flowers or a European garden planter to compliment this gift.
Each key ring is hand made in Pennsylvania from Fallen Tree limbs and coated with resin to protect it through the ages. Each ring is may differ in shaping as no two limbs are alike. The appx size of the key ring is 1 1/2 - 2".
Irish Blessing Keyring

Blessing Keyring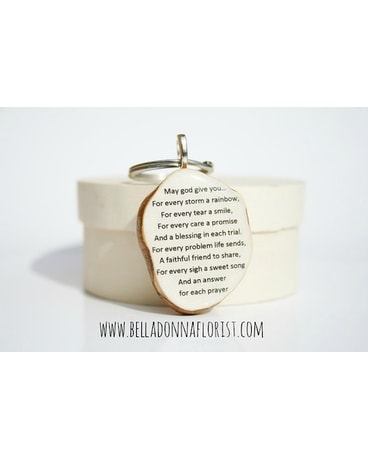 Irish Blessing Keyring - $24.99